Google recently announced a new Page Experience report in Search Console which provides a summary of the user experience of visitors to your site. This is an important report to consider since page experience can affect ranking positions as it is one of the many signals that Google considers when generating Search results.
Google evaluates page experience metrics for individual URLs on your site and uses them as a set of page experience signals for loading performance, interactivity, and visual stability of the page. It also includes existing Search signals such as mobile-friendliness, safe-browsing, HTTPS, and intrusive interstitial guidelines.
While page experience is important, Google still seeks to rank pages with the best information overall, even if the page experience is subpar. Great page experience doesn't override having great page content. However, in cases where there are many pages that may be similar in relevance, page experience can be much more important for visibility in Search.
Page experience is also evaluated per mobile URL. The assessment and the report were developed to help sites create pages that provide a better user experience for their mobile visitors.
Page experience in Google Search is evaluated using the following criteria:
Core Web Vitals
The URL must have data in the Core Web Vitals for that to appear in the report. Core Web Vitals tests the speed and stability of the page loading experience for users.
Mobile usability
A URL must have no mobile usability errors in order to qualify for Good status in the Page Experience report.
Security issues
Any security issues for a site disqualify all URLs on the site from a Good page experience status in Google Search.
HTTPS usage
A page must be served over HTTPS to be eligible for Good page experience status in Google Search.
Ad Experience
This rates whether a site uses advertising techniques that are distracting, interrupting, or otherwise not conducive to a good user experience.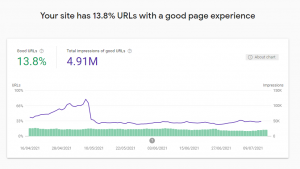 The report includes a chart showing the following data:
Good URLs
Percentage of mobile URLs with Good status on the last date measured in the chart, where Good means that a URL has Good status in the Core Web Vitals report and has no mobile usability issues (or no data at all) in the Mobile Usability report. Security issues, HTTPS, and Ad Experience are not included in this count.
Total impressions of good URLs
The number of impressions generated by good URLs over the time period shown by the chart.
Chart daily values
The percentage of URLs considered good on each given day. URLs considered "good" follow the same criteria described above for Good URLs.
If 'Not enough data collected' is shown instead of a chart, it means that there isn't sufficient data for any URL on the website in the Core Web Vitals report.
Google began using page experience as part of their ranking systems from mid-June 2021. As such it's important to know how to optimise the page experience and you can read more about this here.
You can also read more about page experience signals in Google Search on our previous blog in January or if you'd like to know more about how using the Page Experience report can help your business, please get in touch.