Over the past month there have been changes made to the Search Terms report in Google Ads, with more data being available to advertisers. This has always been a key report for advertisers to use to refine their campaign targeting, but while Google aims to maintain user privacy they also want to give advertisers as much information as possible. There are still some limits that remain, but how should this report be used?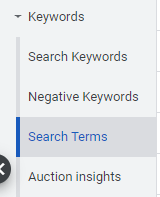 The Search Terms report is one of the main reports that should be regularly reviewed in Google Ads, since the table provides advertisers with the insights into what searches are being made on Google when their ads are being viewed and clicked. The information provided here can help advertisers add new search keywords that should be targeted, as well as review the report for negative terms to help improve relevancy (and reduce wasted spend).
About a year ago, Google updated the search terms report in response to consumer privacy demands and established some thresholds to ensure user anonymity. As a result, the report started to only show search terms that had seen 'sufficient search volume' across all Google searches, and so the report became shorter. There was a new sub-total of 'Other search terms' which simply combined many terms into one row of data, which was not helpful to advertisers and so the report became less useful as a management tool.
Google now says they 'heard feedback from many of you that you want more data' or in others words, advertisers weren't impressed by this change, particularly since some search terms with 1 impression and click were still being shown, so it wasn't clear what might be getting excluded from the report. They now say that they explored new, 'privacy-safe ways' to provide more insights to help advertisers run more effective campaigns, which has resulted in further changes that were announced this month.
Google therefore now shows more queries in the Search Terms report that meet their privacy standards and this data is backdated to February 2021. However, there are still a group of 'Other' terms that resulted in clicks grouped into one line of data, but what advertisers do now see are more search terms where the ads may have been shown, even if there was no click as a result. This should therefore be reviewed to ensure the targeting of the ads is correct and that negative terms or phrases can be added as necessary.
This change is certainly helpful, and although it's not quite as insightful as the old Search Terms report used to be, more data is certainly better. This also coincides with the removal of the modified broad match search terms, and the expanded use of phrase match terms, which needs to be monitored as the search coverage is being expanded as a result and this can mean that more negatives need to be added.
There is more information about using the Search Terms Report here. You should also insert the Keywords column when viewing the report, to see which keywords generate the search terms that are reported. This also helps to identify how effective the keywords are, which search terms are commonly used (which is also good for SEO) and which searches should be blocked with negatives.
You can never anticipate which searches people may make on Google, or how Google may show your ads based on your keywords, so this report is an essential tool to review and use to improve your campaign performance.
For more information about using the Search Terms report or improving your Google Ads management, please get in touch.