Last month we posted an article about Google 'Signals' in Analytics, and how ads may be personalised to web users based on a range of factors. From the user perspective, how can you check these signals and control what sort of ads may be shown to you?
With the demise of remarketing and the use of third party cookies to track users across different websites, Google and other advertising networks are having to consider other ways of targeting ads to the right people, based on other information and aggregated trends across multiple users.
As a user of Google and related products, like YouTube and the Chrome browser, your activity history can be tracked and data collected to develop a profile about you and your interests. This is designed to provide you with relevant ads when you're browsing the web, but you may be concerned about this information and how it's being used. There are a number of ways to check and control this.
Firstly, if you have a Google account, you can login and select 'Manage Your Account', then choose Data & Personalization in the left hand navigation panel. Here you can see the Ad Personalization panel and select Go to Ad Settings. This area will indicate whether you have Ad Personalization turned on or off. By default, this will be on, but if you don't want to see ads that are personalised to your profile you can turn this off.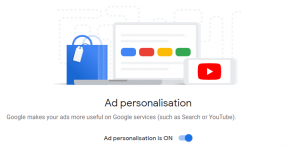 If you can see the Ads Personalization is active, you can select your personal info or interests under the "How your ads are personalized" option. Here you can review the signals that Google has collected about you, and then update your info or turn off an interest, or you can select an interest that you would be happy to see ads about. It's worth checking these settings, to first of all see how accurate Google's profile is of you, and also to adjust the settings to make ads you see more relevant to you, if required.
If you decide to turn the Ads Personalization off, Google will no longer use your info to personalise the ads that you see across the Google network. However, ads can still be targeted with info like your general location or the content of the website you're visiting.
You may also be served ads from other ad networks as there are many others – apart from Google – that personalise ads based on your activity online. Some of the ads are customised based on predictions about your interests generated from your visits to different websites in your browser and on other devices you may use – this type of ad customisation is sometimes called "online behavioral" or "interest-based" advertising.
One way to control ads from other ad networks is to use the AdChoices website and their WebChoices tool. The companies participating in the WebChoices tool provide transparency and choice under the DAA Principles (Digital Advertising Alliance). You can run this tool in your browser, which then evaluates its compatibility and verifies its opt-out status. You are then able to review which ad networks have been identified and which can be blocked, if required.
For more information about using Google signals in Analytics, or about Ads Personalization, please get in touch.