At Google's recent Marketing Live conference, where they focus on new developments in their product range, the main focus was on the promotion of their new AI-powered ad solutions which are being developed and tested. According to Google, these advances will 'help to find new customers, unlock additional performance opportunities, and accelerate your business growth'.
During the conference, Google unveiled the new generative AI features for Google Ads, including Performance Max and Product Studio. The latter product is designed to help advertisers simplify campaign creation with customised product imagery and by managing creative assets, as well as improving ad relevancy and being able to scale campaigns.
Advertisers had expressed concerns about the complexity of initiating new campaigns, so Google unveiled a new, user-friendly conversational interface within Google Ads. This new AI-based system will analyse landing pages and ads, condensing the content to generate relevant keywords, headlines, descriptions, images, and other creative assets for Google Ads campaigns (as shown below).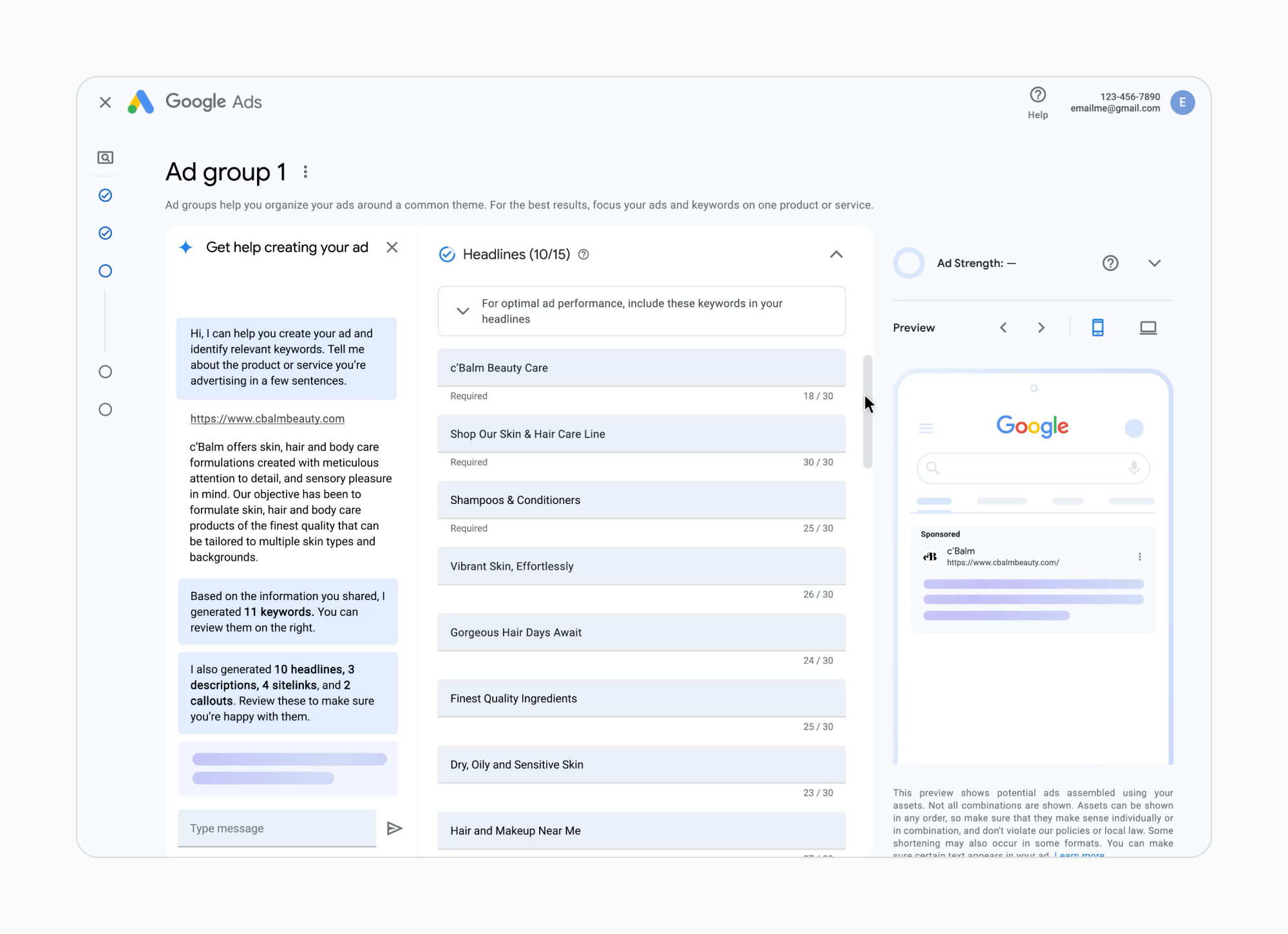 These AI-driven suggestions are presented for the advertiser's review and can be easily modified before launch.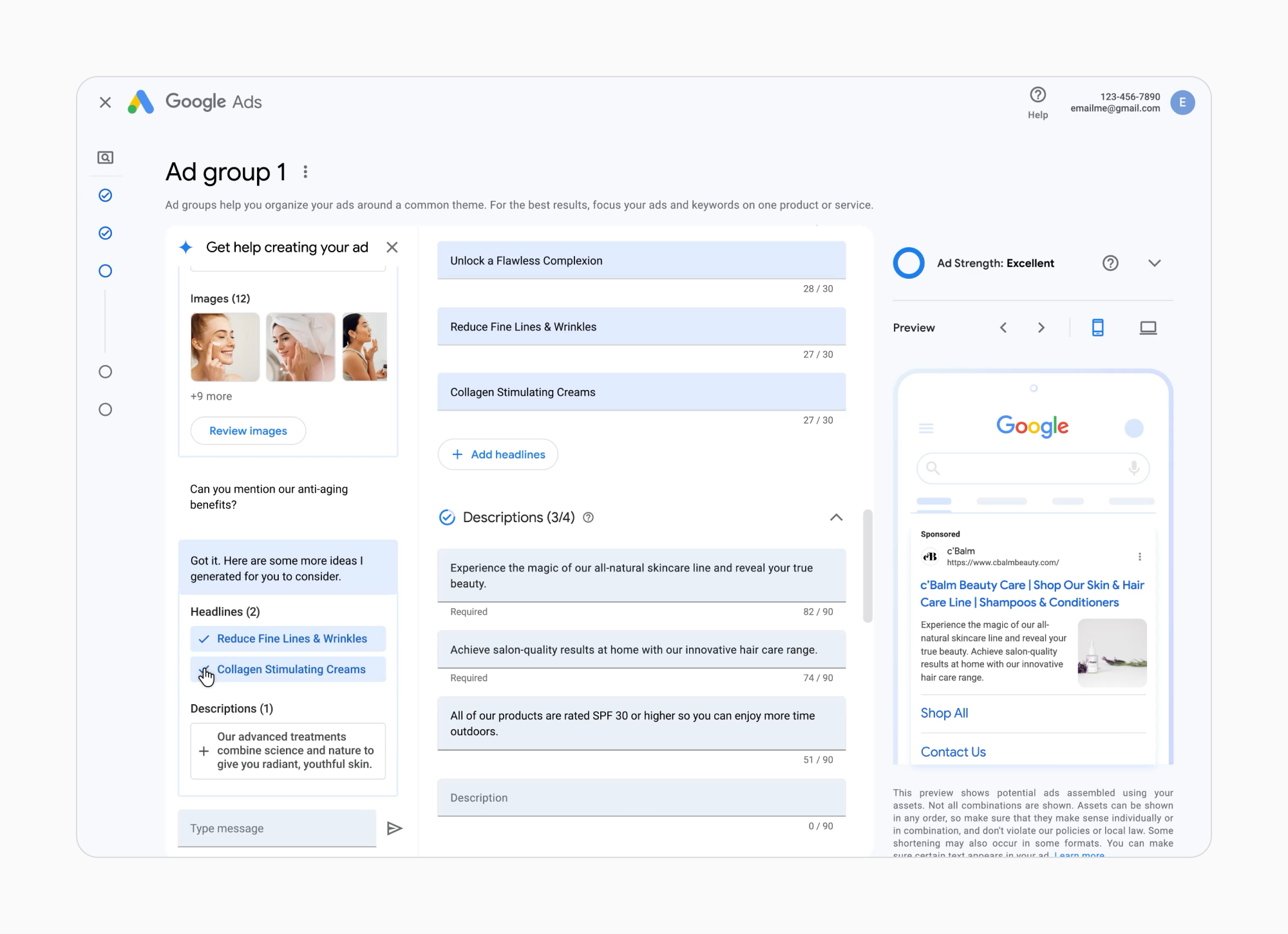 The automatically created assets (ACA) will use generative AI to improve ad relevancy by analysing the advertiser's landing pages and ads and adapting Search ads to the context of users' search queries.
By providing a more conversational approach to campaign creation, Google could introduce a digital assistant to advertisers, offering Google AI ideas and advice. It could also open new avenues for advertisers to improve campaign performance through intelligent, interactive dialogue familiar with the advertiser's content and ad history.
Performance Max AI-powered campaigns
Google spotlighted Performance Max campaigns as a prime example of how AI-powered campaigns could stimulate business growth. It has now incorporated generative AI into those campaigns, simplifying the process of creating and expanding custom assets. (There will be a limit to the number of AI-generated assets that can be put into the ad rotation).
Once the website is provided, Google AI begins to familiarise itself with the brand, populating the campaign with relevant text and other assets. Specially generated unique images are also suggested by Google AI, which 'enables the brand to captivate customers across a broader spectrum of inventory and formats'.
This functionality is extended to the new conversational interface within Google Ads, which 'ensures a seamless and engaging user experience' (see below).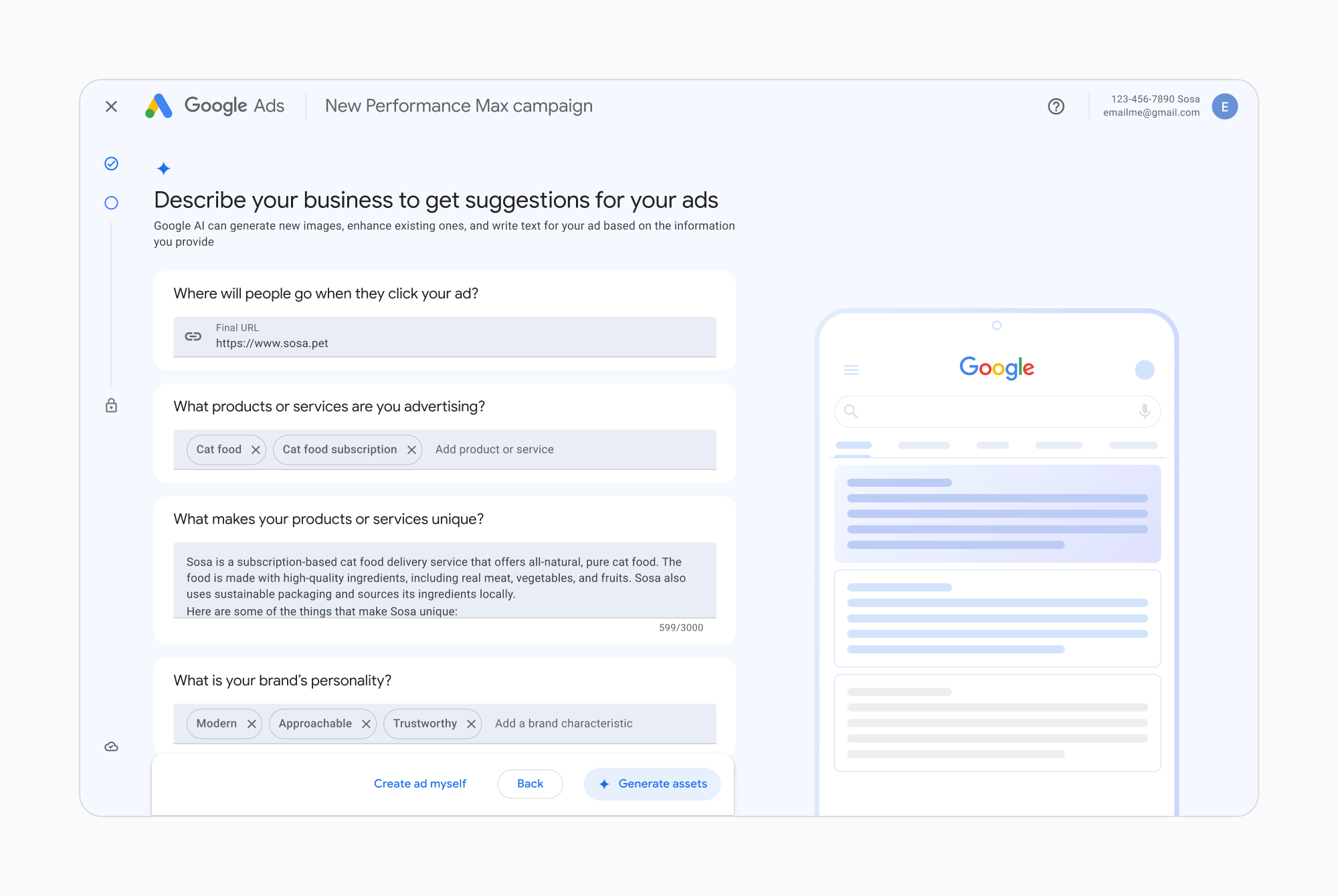 Search Generative Experience (SGE) Ad Formats
Over the next several months, Google will test out Search and Shopping ads directly integrated within AI-powered snapshot and conversational modes.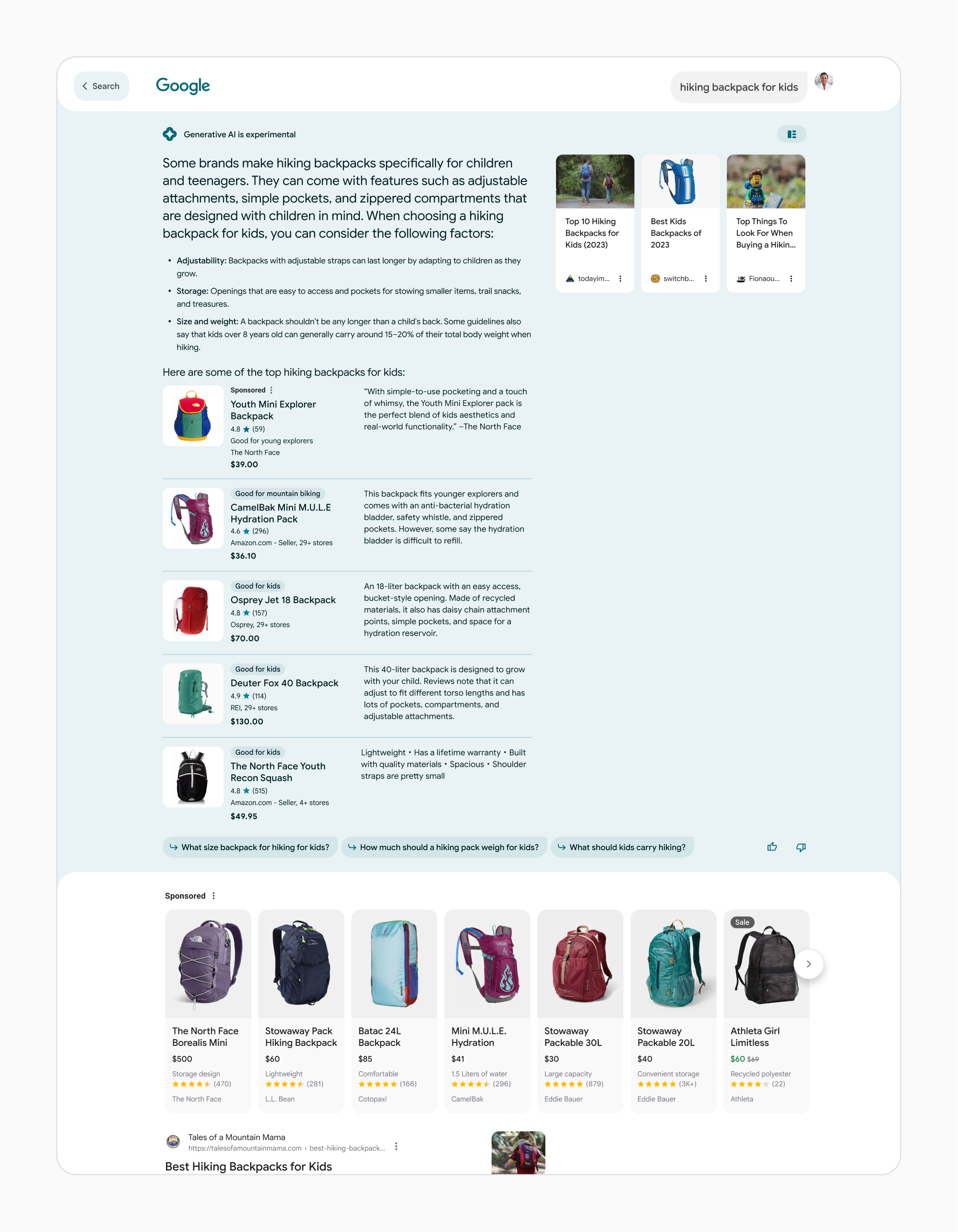 These experiments on Search Generative Experience (SGE) can be accessed and monitored through Search Labs, Google's hub for experimental Search functionalities.
Generative AI Features in Product Studio
In e-commerce, striking images serve as a digital storefront and product listings featuring more than one image can increase impressions and clicks. The process of creating distinct content can often be resource-intensive and time-consuming though, so Google has introduced Product Studio with generative AI features.
This innovative tool, integrated into the simplified platform of 'Merchant Center Next', harnesses generative AI to aid merchants in crafting unique product imagery and assists businesses in managing their products display effectively on Google.
Built with Google's AI Principles at its core, Product Studio brings the advantages of generative AI to businesses of all sizes, facilitating the creation of unique and customised product imagery without any cost and enabling businesses to maximise the value of their existing images.
Using a text-to-image AI model, the Scene Generation feature facilitates the creation of lifestyle product imagery from basic product photos for merchants by interpreting brief descriptions of desired scenes, thereby eliminating the need for expensive and time-consuming photoshoots.
Product Studio will be accessible later this year in the United States via Merchant Center Next and the Google & YouTube Channel App on Shopify, helping merchants conveniently generate images in the platforms where they currently oversee their Google presence.
Merchant Center Next
Google hopes to continue making the current Merchant Center platform more user-friendly so the rollout of Merchant Center Next has already begun for new users.
One of the significant improvements includes a simplified process for setting up a product feed, whereby when previously merchants had to input product details manually, Merchant Center Next can populate the product feed using detectable information from the merchant's website.
Google aims to progressively upgrade smaller US businesses in the coming months and complete the global rollout by 2024. (Merchants will be notified when the new experience is ready for their use).
Google is also going to start using generative AI to boost Search ads' relevance based on the context of a query. Last year it released automatically created assets (ACA) for Search ads, which use content from landing pages and existing ads to generate headlines and descriptions.
The next step is for Google to boost ACA with generative AI to more effectively create and adapt Search ads based on the context of a query.
The look of AI generated ad creatives will differ in that they should have a branded distinction as the AI will generate images, headlines, and descriptions based on each advertiser's unique landing pages and ad copy.
You can see what is considered to be the essentials for marketing with Google AI here. You can watch more from Google Marketing Live 2023, here.
If you want to know more about how the use of generative AI with Google Ads could help your business, please get in touch.