As we enter 2023, this is a reminder that Google Analytics is changing and by July this year, the established Universal Analytics reports will stop collecting data, and users should already have the new Google Analytics 4 (GA4) properties in place and tracking data. If not, this still needs to be done sooner rather than later, and Google is helping with this process.
Google must be getting concerned about the number of Analytics accounts that have yet to set up the GA4 version ready for the transition later this year. As part of the support process, they have recently announced the launch of new resources and tools to help with the transition to GA4.
There is a step by step guide or, if a more automated experience is preferred then the Setup Assistant can be used in the admin section of the legacy Universal Analytics (UA) property.
Once a GA4 property is created and connected, the Setup Assistant can automate some required setup steps and help track progress. For example, the Setup Assistant lets selected goals be imported to GA4 (although these sometimes need some further adjustment) and it's also possible to copy desired Google Ads links and audiences, and add users who have access to the current Universal property.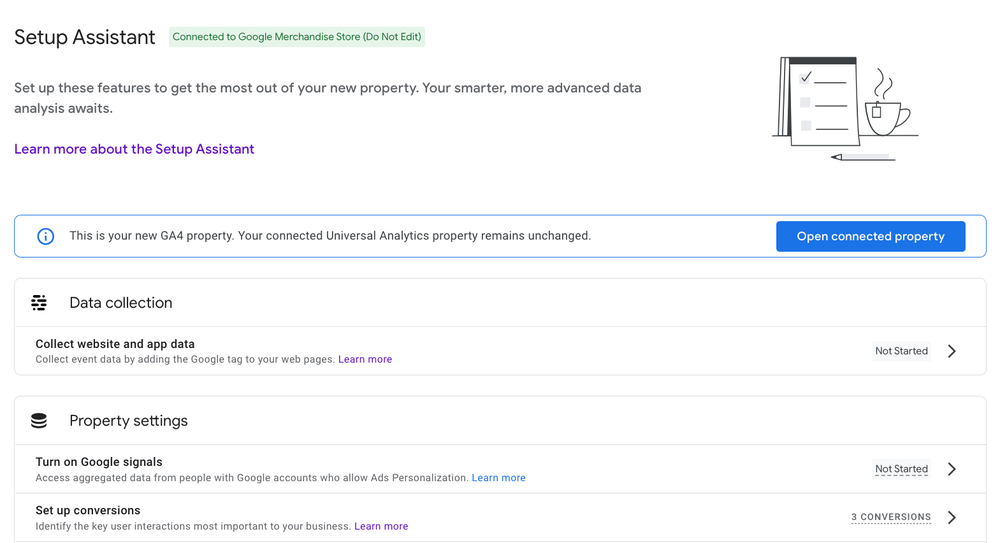 The earlier the transition from UA to GA4 is made, the more historical data and insights there will be available in your GA4 property. So, beginning in early 2023, the Setup Assistant will create a new GA4 property for each standard Universal Analytics property that doesn't already have one, helping to jump-start the migration.
These new GA4 properties will be connected with the corresponding UA properties to match the existing privacy and collection settings. They'll also enable equivalent basic features such as goals and Google Ads links but it's also possible to opt out of having the Setup Assistant do it automatically if a manual transition is preferred – it just needs to be done soon!
Google is also trying to make the transition more appealing for users who are more familiar with the Universal interface and set of reports. They have recently added the option to customise the home page dashboard to show the metrics preferred by a user, and they have also added a new standard report on landing pages, which is a key analysis that marketers should be using.
More additions are likely to be announced over the coming months, and you can learn more about how to get started now with GA4, which is Google's re-imagined tool that helps to get a complete view of consumer behavior across web and app by using first-party, modeled data. This is critical in an evolving privacy and technology landscape, where marketers have to rethink their approach to measurement in order to keep getting the insights they rely on to turn those into ROI.
If you want to know more about how we can help with the inevitable and important transition to GA4 for your business, please get in touch.