Google recently rolled out Smart campaigns to all 150 countries where Google Ads is available, to assist small businesses that are looking for tools to get online quickly and reach the right audience.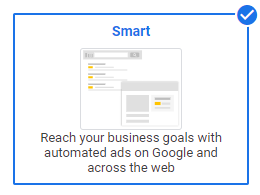 Smart campaigns – built specifically for small businesses who want to target a local area – is an automated tool that helps them to be promoted on Google, by enabling search ads to be set up and running in just 15 minutes.
Smart campaigns are becoming easier to use with new features that can help sign up from any device, control when the ads show, to see the right results on Google Search and stand out on Google Maps.
It's now possible to sign up for Smart campaigns and run ads directly from the Google Ads mobile app on Android or iOS. (Currently within U.S., Canada, Australia, the United Kingdom, Italy, France, Spain, the Netherlands and Japan, with more countries to follow).
Google also recently began rolling out 'Promoted pins' to Smart campaign advertisers with a Google My Business profile, to enable businesses stand out by displaying a prominent, square-shaped pin on Google Maps. The clicks, calls or sales from those will be free until September 2020.
A useful feature has recently been added to see the status of ads, how they're performing and how they look to potential customers, by searching for 'My Ads' or 'Google Ads' directly on Google, (after first signing into the Google Ads account).
Finally, keyword themes are becoming fully available to everyone using Smart campaigns to enable more control over those to help ads reach more of the right people on Google Search. It's now possible to do that by telling Google what the business offers. The ads will then be be shown to potential customers searching for related phrases.
Google Ads Smart campaigns are rapidly evolving to ease their implementation and improve their effectiveness but they do still require close monitoring and regular management, to ensure they reach the intended audience, don't cost too much and produce a healthy return.
If you want to know more about how the use of Smart Campaigns could help your business, please get in touch.