Google Ads recently rolled-out lead form extensions (as a beta version) for search ads on mobile and tablet devices. These forms capture interest when potential customers are searching for a company, products, or services. They are designed to help mobile users convert and provide their contact information without ever leaving the search engine results page.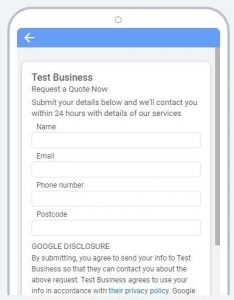 The reasoning for this is because mobile site conversion rates are usually lower than desktops, as filling out a form on a mobile device will always be harder, so Google has been looking for creative solutions to allow users new ways to convert without visiting a mobile site.
Google notes that, in testing, one advertiser reported a 20% higher closing rate for sales leads after implementing lead form extensions as a fast, mobile-optimised experience makes form submission easy and eliminates the extra step of navigating to a mobile site lead form.
The benefits of using this new extension in mobile ads is that advertisers can generate new leads to drive up sales for a product or service. It can also be used to drive leads into the marketing funnel to help get more conversions as well as to find and engage users interested in a product to create a new remarketing list.
The extension works by including the form as part of an advert, which mobile users can click on and submit their details without progressing further onto the website. That's because these lead forms collect information directly from an ad so that people interested in a business or service can engage with it by filling out the form.
Any time a lead form extension is opened, it will be tracked as a lead form click and once a user submits their info in a lead form, it will be counted as a lead conversion. Advertisers can then track click and conversion performance from this type of extension by segmenting a performance report by Click and Conversion-type.
However, it should be noted that there are some limitations with these new lead form extensions:
Lead form extensions will only show in search campaigns and on mobile and tablet devices.
Lead form extensions cannot be created at the account level or ad group level. Each lead form extension can only be applied at the campaign level.
Some sensitive industries (such as healthcare) will not be able to collect personal information with lead form extensions.
Usage of the personal information collected with lead form extensions must comply with a company's provided privacy policy, Google's data collection policies, and the local legal requirements of the users.
It's also worth noting that a lead form extension is not guaranteed to show all the time and is more likely to show in top positions. Therefore it's best to adjust the mobile bid modifier to make the most of this new mobile ad extension.
If you want to know more about how lead form extensions could improve your business's mobile and tablet conversion rate, please get in touch.
Related article: Structured Snippet Extensions Available in AdWords