In a long awaited move, Google has started to roll out a migration tool for Universal Analytics properties (UA) to migrate existing goals into a new Google Analytics 4 property (GA4). This has been one of the biggest hurdles for many Analytics users to set up goals in the new GA4 properties, so this should come as a welcome move for many and one that will help marketers begin to use the new GA4 reports to track the equivalent data to an established UA property.
If you are using the Setup Assistant tab in a new GA4 property, you will now see a Conversions section, once this has been made available in your account. This goals migration tool allows you to quickly recreate eligible goals from your connected Universal Analytics property as conversion events in your Google Analytics 4 property.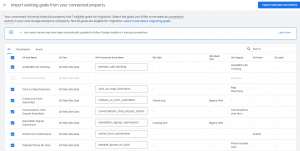 For each eligible Universal Analytics goal you select, the goals migration tool automatically adds a new Create event rule in your connected Google Analytics 4 property and also marks the created event as a conversion. The two goal types that can be migrated from a UA property are the common ones that most views use, namely a destination goal (when a user lands on a specific page, such as a "thank you" or "sales confirmation" page) or an event goal (when a user triggers a specific event, such a phone or email click, or link to an external website).
You can create up to 30 custom conversion events per standard GA4 property, which is 10 more than the maximum available in a UA view, although if you have multiple views with different goals, you may need to decide on the top 30 you want to track in GA4.
It may also take up to 24 hours for these converted goals to appear in the GA4 reports, but this is a key development to help users migrate across to the new GA4 system and set up the important conversion tracking that they need to see. You can read more about this development here.
It should be noted that as Google Analytics 4 and Universal Analytics properties count conversions differently, you should expect to see some differences in conversions between your connected properties. Also the event names from UA may be automatically updated to follow Google Analytics 4 naming conventions, or the goals migration tool might provide suggestions.
However, with the recent announcement that Google will end the tracking for UA properties in just over a year, this is a key feature to help marketers set up and track data in a GA4 property, and collect at least 1 years' worth of data before this version becomes the only option within Analytics.
If you want to know more, or need help with setting up the GA4 property for your website, please get in touch and we'll be pleased to help. We can also help you get more insights from your Analytics data through our consultancy or training services.