If you're advertising online with Google Ads there is a menu option for Insights, which includes a Search Trends report. This can help you to identify trends in your market and understand campaign performance, plus there may also be information about the current and upcoming interest levels in the products or services most relevant to your business.
The Search Trends report in Google Ads can therefore be used to respond to shifts in search demand and identify potential opportunities for growth. There are two type of insights:
Account: Search trends related to existing ads.
Suggested: Opportunities to expand the advertising to new areas relevant to your business if there aren't currently any ads showing for these insights.
On the Insights page, the trend summary gives you a snapshot of the search interest in your market alongside the actual performance. From here, it's possible to review performance and consider if its keeping up with the pace of demand for relevant search terms, or whether there is more volume that can be captured.
The timeline chart can be reviewed to see how search interest and actual performance compare over time, so that you can compare any changes in activity for terms that may be relevant for your target market.
More can be learnt about a search trend by clicking on 'view trend details'. This provides details on the following:
Trending search terms
Viewing these terms helps to identify trending searches across Google. There are opportunities to capture more demand from existing ads, as well as popular and relevant searches that the ads haven't yet targeted.
Search term insights can assist in seeing what consumers may be interested in. Some of the suggested terms may not be relevant for the advertiser but this info can spark new ideas for your business or new content, such as blog posts to promote products and services.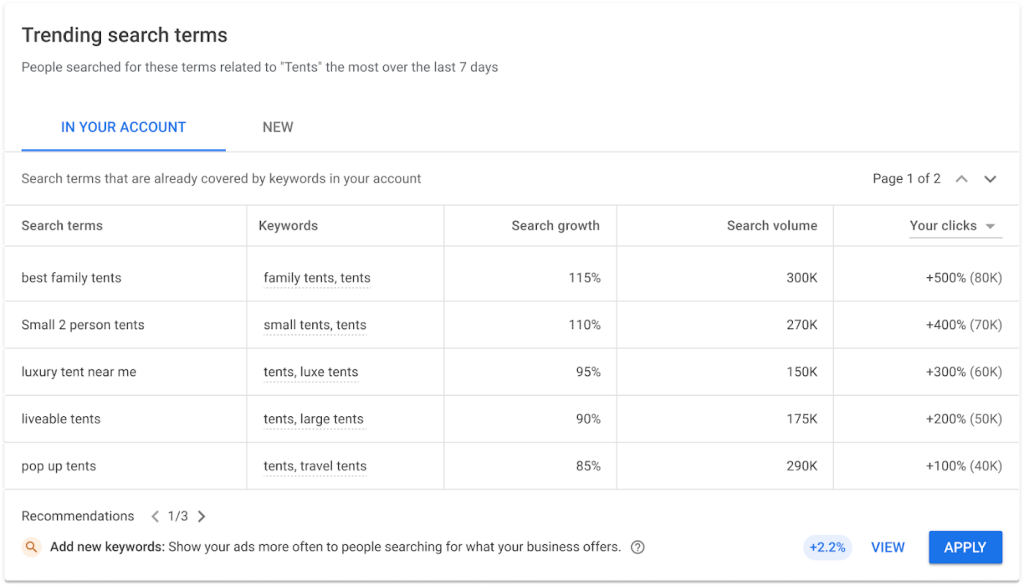 Trend growth in your campaigns
Campaign insights show which campaigns have ads that target trending searches. This data can help to capture more interest in searches relevant to existing campaigns.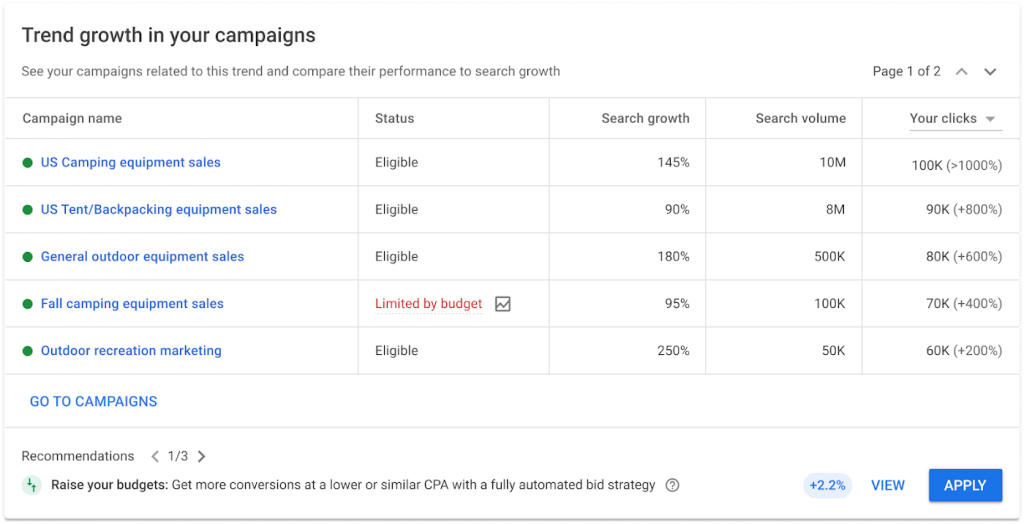 Related search trend insights
Emerging trends – Week-over-week trends look at the search interest across Google for the last 7 days compared to the previous 7 days. These insights help to identify emerging trends so that you can respond quickly.
Sustained interest – Month over month trends look at the search interest across Google for the last 28 days compared to the previous 28 days. These insights help to identify large spikes in interest or trends that have sustained interest for a longer period.
Opportunities for growth – Year-on-year trends look at the search interest across Google for the last 28 days compared to the same 28 days a year ago. These insights can help to identify areas of growth.
You can read more about the Insights page and why you might not see Insights.
If you want to know more about how the use of Search trends on the Insights page can help your business's Google Ads campaign, please get in touch.