In a significant announcement this month, Google has introduced a new, revised version of Google Analytics, called Google Analytics 4 (GA4). This uses the same tracking code but introduces a whole new interface for users, designed to focus on actionable insights with a reduced number of reports, but with more tools which are likely to be added to in the future. If you're an existing Analytics user, GA4 presents a new learning curve, but appears to be the way of the future!
Google's blog post announcing this change focuses on the user objective of achieving a better ROI (Return on Investment) from your marketing over the long term. They say that GA4 is a new, more intelligent version of Google Analytics that builds on the App + Web property that was introduced in beta last year (but probably didn't have a high uptake).
Like many Google products, the new GA4 uses machine learning at its core to automatically indicate helpful insights and is designed to give users a complete understanding of customer activity across devices and platforms. It's also forward-looking and privacy-centric by design, so that Google says you can rely on GA4 even as industry changes like restrictions on cookies and identifiers create gaps in your data.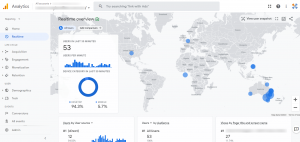 All new Google Analytics accounts or properties that will be created are automatically using the new GA4 format, whereas existing accounts have the option to upgrade to GA4 and run concurrently with the standard GA property settings and views / reports. It would be recommended to create a new GA4 property now (which requires the latest gtag tracking code or Tag Manager) and start to build data, as historical information from existing accounts will not be transferred across.
The settings, and the reporting options, are quite different in the new GA4 property, and we will be featuring aspects of this over the coming months as we also become more familiar with this new tool. The primary focus for GA4 appears to be around ecommerce sites, but all websites with events or goals should also benefit from the more active focus on outcomes from a website.
For example, by using Google's advanced machine learning models, GA4 can automatically alert users to significant trends in their data, like products seeing rising demand because of new customer needs, or even anticipating future actions that customers may take. Google says they will be continuing to add new predictive metrics, like the potential revenue to be earned from a particular group of customers, which will allow marketers to create audiences to reach higher value customers and run analyses to better understand why some customers are likely to spend more than others. All signals that can lead to actions that improve results.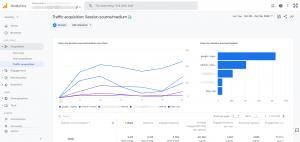 One key focus of GA4 is that it provides customer-centric measurement, instead of measurement fragmented by device or by platform. This is done using multiple identity 'spaces', including marketer-provided User IDs and unique Google signals from users opted into ads personalisation, to give you a more complete view of how your customers interact with your business. This may not work that well for smaller scale businesses or where there is limited Google user data available, but it is designed to provide a better understanding of your customers across their entire lifecycle, from acquisition to conversion and retention.
Google says that based on user feedback, they have simplified and re-organized reporting so that users can now intuitively find marketing insights based on the part of the customer journey they're interested in. For example, you can see what channels are driving new customers in the user acquisition report, then use the engagement and retention reports to understand the actions these customers take, and whether they stick around, after converting.
The other key feature of GA4 is the ability for the reporting to adapt in the future with or without cookies or identifiers as the technology landscape continues to evolve. It uses a flexible approach to measurement, and in the future, will include modelling to fill in the gaps where the data may be incomplete. This means that GA4 is designed to help users measure their marketing results and meet customer needs both in the short and long term as market conditions and tracking restrictions may change.
As noted above, we will feature aspects of GA4 in future blog posts but if you would like any information now, or help with setting up a new property, you can read more here, or please get in touch.