Enhanced conversions in Google Ads is a feature that can improve the accuracy of conversion measurement and unlock more powerful bidding. It supplements existing conversion tags by sending hashed first-party conversion data from a business's website to Google on first-party customer data, such as email addresses.
Depending on which type of enhanced conversions are used, the hashed data will be used in different ways to improve the measurement: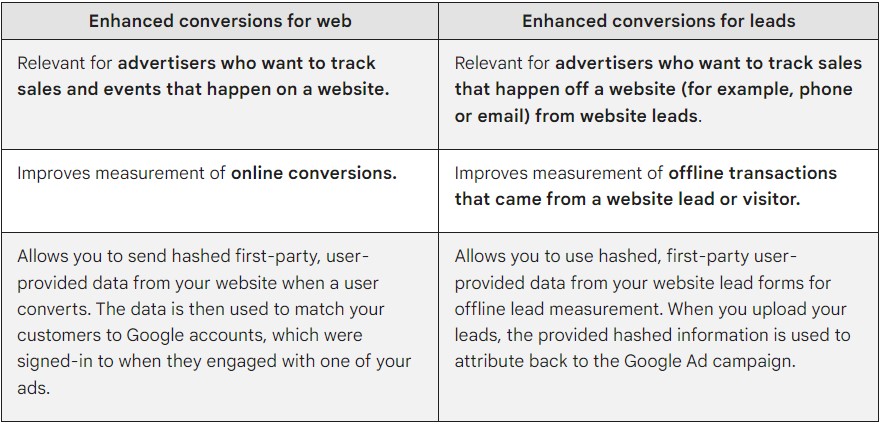 Enhanced conversions for web
With enhanced conversions for web, first-party customer data such as an email address, name, home address or phone number is captured in conversion tracking tags, sent to Google in its hashed form and then used to match your customers to Google accounts, which were signed-in to when they engaged with one of your ads.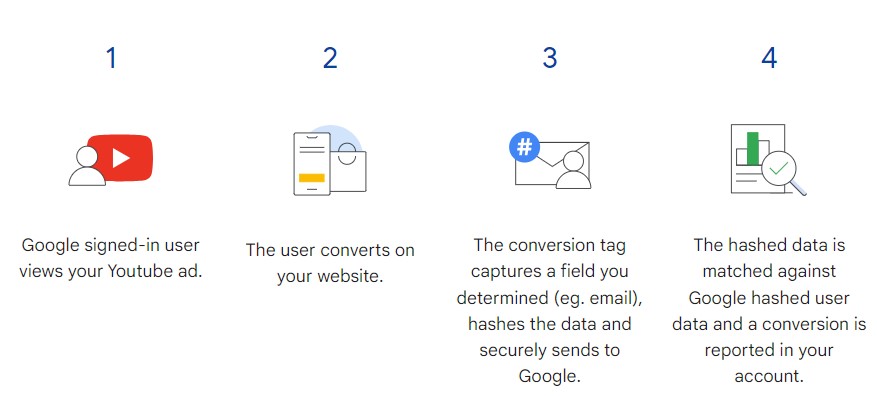 Benefits:
Recover conversions that otherwise wouldn't have been measured;
Improve bidding optimisation through better data;
Privacy safe with hashing of first-party customer data.
Enhanced conversions for leads
It's possible to upload or import conversion data into Google Ads using first-party customer data from website lead forms. Unlike the standard version of offline conversion imports, enhanced conversions for leads doesn't require modification of lead forms or customer relations management (CRM) systems to receive a Google Click ID (GCLID). Instead, it uses information that was already captured about the leads, like email addresses, to measure conversions.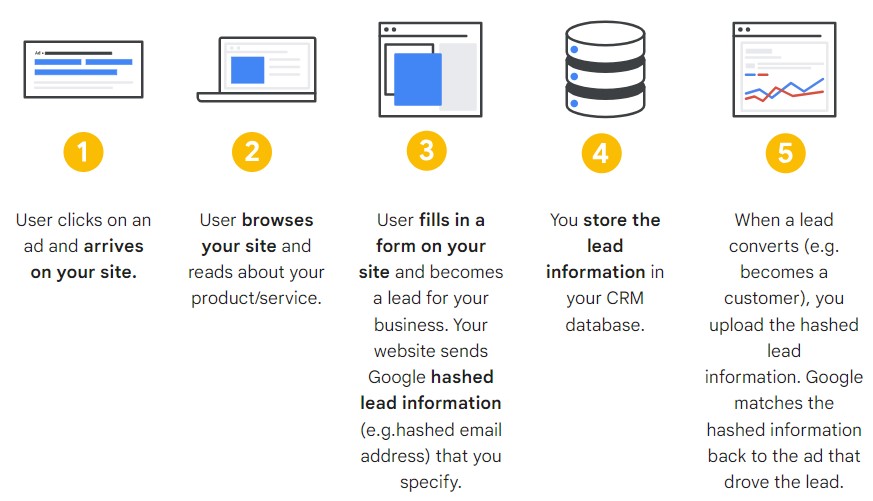 Benefits:
Easy to set up: Configure measurement entirely from your Google Ads account.
Better performance: Optimise your campaigns to sales and transactions that happen off your website.
Flexible: Implement using the Google tag or with Google Tag Manager.
Implementing Google Ads enhanced conversions is a crucial step for businesses that want to get a more accurate picture of their conversions, as they can improve data-driven decision-making and optimise Google Ads campaigns more effectively.
As you continue to optimise campaigns based on this data, there should be improvements in conversion rates and ultimately, the return on ad spend (ROAS).
You can read more about how to set up Enhanced conversions for web or leads.
If you want to know more about how using enhanced conversions can help your business, please get in touch.