Google Ads Local campaigns are designed to help businesses provide their potential customers in their local area with the information that they need to decide when and how to visit their stores. They can streamline the process, making it easy to promote local stores across Google's largest properties including the Google Search Network, Maps, YouTube, and the Google Display Network.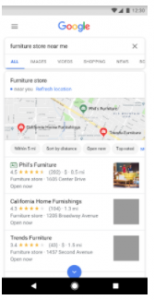 When a Local campaign is created, it's necessary to define the store locations required to be promoted. This can be set by linking your Google My Business account or selecting affiliate locations. Then just add a few lines of text, a budget, some assets, and the rest is optimised to help customers find you.
These Local campaigns are focused on simplicity and growing offline business goals. After inputting store locations, campaign budget, and ad assets, Google's machine learning technology will automatically optimise bids, ad placements, and asset combinations.
The campaign aims to maximize the in-store value (using store visits, call clicks, and/or direction clicks) and promote your locations across Google properties and networks.
Local campaigns also use radius targeting for the Google My Business and affiliate local extensions (ALE) locations. The radius can vary depending on the targeted locations and a user's preference of travel distance to them. Other factors that determine targeted radius include: vertical, population density, and existence of competitors.
You can read more about Local campaigns here, or find out about the different ways to target a local search market.
If you want more information about how we can help promote your business with a Local Campaign, please get in touch.